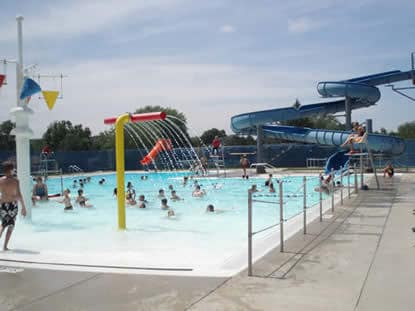 Mel Brownell Aquatic Center
Mel Brownell Aquatic Center
The Aquatic Center features a 181-foot water slide, six lap swim lanes, one diving board, a drop slide, zero-depth entry with three water features, large sun deck, a concessions area & much more fun & excitement for everyone. The Aquatic Center is for people of ALL ages!!!
OPENING/CLOSING DATES: The Aquatic Center will open for public use beginning Saturday, June 3th, 2023 through Sunday, August 20th, 2023 (dates subject to change).
DAILY RATES:
$4.00 per/day – Youth (18 & under)
$5.00 per/day – Adults
20 admissions = $60.00 ($3.00 per/admission)

One punch good for one adult or one youth per/day.
MEMBERSHIPS (GOOD FOR THE 2023 SEASON ONLY):
Family Membership = $ 160.00 Single Membership = $ 70.00

*** Memberships purchased before May 1st, 2023 will be sold at a 10% cost reduction.
2023 Aquatic Center Hours
Lap Swim:
7:00AM – 8:00AM (Monday – Friday)
5:00PM – 6:00PM (Monday – Friday)
Open Swim:
1:00PM – 5:00PM (Monday – Sunday)
7:00PM – 9:00PM (Monday – Sunday)
Swim Lessons:
8:00AM – Noon (Monday – Thursday)Swim Team:
Noon – 1:00PM (Monday – Thursday)

Adult Lessons: 8:30AM – 9:30AM (Saturdays)

Parent/Child Lessons: 9:30AM – 10:30AM (Saturdays)
Aquatic Center Rental hours:
9:00PM – 11:00PM (Monday – Sunday)
10:30AM – 12:30PM (Saturday or Sunday)

Water Aerobics: T.B.A. (Check at Aquatic Center)

Level 1 – 7 Swim Lesson Schedule:
Session # Start Date End Date Days Notes
S1 June 5th June 15th MON – THUR
S2 June 19th June 29th MON – THUR
S3 July 10th July 20th MON – THUR
S4 July 24th August 3th MON – THUR