Gladiolus Days is St. Charles annual festival in honor of the late Carl Fischer, who was the worlds leading hybridizer of new and distinctive gladiolus. He received numerous awards for his achievements, including the Society of the American Florists Gold Medal Award. He also received 80 awards for his "All American" varieties as well as the proven old timers. He established Noweta Gardens in 1945 and grew fields of Gladiolus in and around St. Charles for decades.
Gladiolus Days 2020 has been CANCELLED 
Congratulations to Cheyenne Boynton for her 2020 Button Design
(image coming soon)
The Grand Parade
CANCELLED
The Grand Parade is the jewel of the St. Charles festival which will be held Sunday, August 25th beginning at 1:00 p.m. It features over 200 floats from around the area and lots of candy for the kids!
Parade Route
What has been part of Gladiolus Days for over 10 years, has grown into one of the premier Tractor Show events of the area.  Featuring over 150 tractors from all brands and years, the collection of farming implement and specialty equipment is AMAZING!  The tractor show runs Friday to Sunday of Gladiolus Days and is held at the Winona County Fairgrounds.  With FREE parking, stop on in and tour the grounds and watch a real saw mill, or see how a real corn shredding machine works.
Check out the 30-plus craft and flea market vendors, sample some of the great food from area vendors, or check out the classic car show or area's best in flat track motorcycle racing.  Fun for the whole family with inflatables, kids tractor driving, pedal pull, model train displays, an 1860s baseball game, petting zoo, music and SO MUCH MORE.  Click on the full schedule of events for days and times.
Gladiolus Days Pageant
(Sunday & Monday Night)
$5.00
FREE With Button
Teen Dance – "Music on Wheels"
(Wednesday Night)
$5.00
FREE With Button
FFA Comedy Show
(Thursday Night)
Advanced Tickets – $10.00
At the Door – $15.00
Prairie Fire Children's Theater – "Midsummer Night's Dream"
(Friday & Saturday)
Adults – $5.00
Students – $3.00
Preschool – Free
AMA Sanctioned Flat Track Motorcycle Racing (Grand Stand Only)
(Saturday)

$5.00
FREE With Button
The Looney Lutherans (Family Fun Show)
(Saturday Night)
$6.00 – Age 12+
$4.00 – Ages 5-12
Free – Under 5
Street Dance – "Diesel Drive"
(Saturday Night)
$5.00
FREE With Button
Congratulations to our 2019 Gladiolus Days Pageant contestants!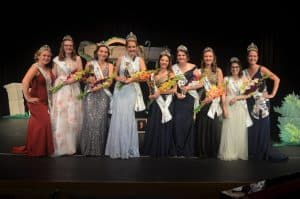 Teen Miss 2019
Left to Right:
2018 1st Attendant – Anna Todd
2019 Royalty – Emily Hursh
2019 1st Attendant – Karly Rieke
2019 Miss Gladiolus Days Queen – Taylin Andring
2019 2nd Attendant – Mya Jones Clemens
2019 Miss Congeniality – Hayley Burkholder
2019 Royalty – Ryli Stangler
2019 Royalty – Lilliana Hewit
2018 Miss Gladiolus Days Queen – Sonia Howen